Casting call for audience members in Atlanta GA
A new BET show is filming in Atlanta and the show is giving out free tickets to the taping for people who want to be cast to be in the audience.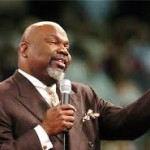 The show is "T.D. Jakes Presents: Mind, Body & Soul". The new show will run on BET and will target people with various issues such as relationship issues, weight issues and others.
Here is the casting call below from the shows facebook page.
Bishop T. D. Jakes is one of the most prolific, pertinent, and powerful voices of our time. BET has partnered with the powerhouse author to produce a new the new show "TD JAKES PRESENTS… MIND, BODY AND SOUL"
"TD JAKES PRESENTS… MIND, BODY AND SOUL" will be an hour show where Jakes will bring his own practical brand of wisdom to world events and situations that we are confronted by today. Jakes and his Famous Celebrity Guest will inspire, motivate, and uplift audiences by discussing the topics of the day and giving their point of views on the situation from life experiences. There is also a lot of Audience interactions and discussions, which gives you the Audience a chance to be apart of the show.
To receive FREE TICKETS to a live taping of TD JAKES PRESENTS in ATLANTA on:
June 5 @3pm and/or 6pm
June 6 @3pm and/or 6pm
June 7 @3pm and/or 6pm
Please email: tdjaudiencetickets@gmail.com
*In your email, please include your first and last name, contact number, email address, the number of CONFIRMED guests including their names, and the taping day and time you would like to attend. If you could attach a picture that would be awesome as well fore our producers are looking for guests for certain segments of the show. ALL RACES!
or
Call: 404-575-7485
Please allow some time to receive a ticket confirmation as BET's "TD Jakes Presents…" Audience Department receives hundreds of requests a day. Only one entry is necessary. Tickets are non-transferable.
Please be advised that no cameras or recording devices are allowed in the studio and a valid government-issued photo ID IS required for check-in. You must be 18 years of age or older in order to attend a show taping! BET reserves the right to deny entry for any reason in its sole discretion.
Related posts:
You may be interested in the following Casting Calls