Casting call for cooking show
ABC's hit series, THE TASTE is back and hungry for more!
CASTING PROFESSIONAL CHEFS, HOME COOKS AND FOODIES from all walks of life!
Anthony Bourdain and Nigella Lawson are at it again. They are looking for cooks, chefs and foodies to compete on the ABC hit show!
The Taste begins with blind auditions of both professional and amateur cooks during which four judges, who double as mentors, taste one spoonful of food from each contestant prior to knowing who cooked it.  Each judge decides whether or not they would like the contestant on his or her team
The taste presents 16 contestants which are split into 4 teams. Each team has a mentor. Professional chefs and non chefs all compete to create the best bite of food. The judges taste the food without knowing who made it and what went into the dish. The episode concludes with the person whose dish was less liked leaving the show. In season 1 the judges were Anthony Bourdain, Nigella Lawson, Ludo Lefebvre and Brian Malarkey.

If you have what it takes to impress the best and are ready to take a bite out of the competition, apply now for THE TASTE SEASON 2 at:
TheTasteCasting.com
APPLY TODAY AND COME SEE US AT OUR LA OPEN CALL (June 29th)!
You can see the flyer below for more information on how to get on ABC's The Taste!
Check out this video about the show: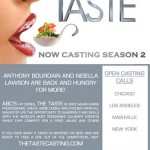 Related posts:
More Casting Calls